June's drabble
June 19th, 2010 (10:32 am)
I got another third place at
dmhgchallenge, and I was pleased because this one, I thought, was a bit subtle -- I had real trouble trying to convey Draco's state of mind in 100 words :-)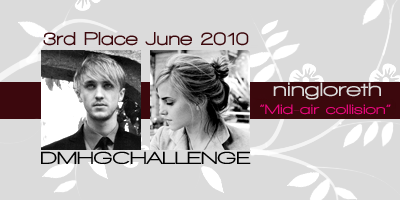 The prompt was



Author: Ningloreth
Title: Mid-air collision
Rating: G
Warnings: None

Granger corners him after the match. "Your son," she says, "is dangerous."

"Scorpius," he replies, coldly, "is a born Seeker. It's your precious girl who's the menace on the Quidditch pitch."

They glare at each other—her, ferocious in her cardigan—and, Merlin, he thinks, she's turning into her mother-in-law!

He thanks the gods that Astoria will never let herself go. His wife wouldn't risk ruining her perfect figure...

Not even to give me a daughter.

He drags his gaze away from Granger's womanly curves. "All right," he concedes, softly, "I'll tell the boy to be more careful in future."

______________

This was inspired by the glimpses we've recently had of Hermione and Astoria in the film epilogue.