May's drabble
May 22nd, 2010 (10:21 am)
This time my drabble came third at
dmhgchallenge. (I was pleased, because there were some particularly good entries this time :-)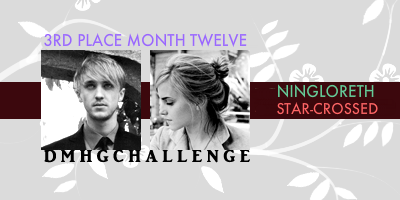 The prompt was



Author: Ningloreth
Title: Star-crossed
Rating: R
Warnings: None

Ron, rooted to the couch, mumbles a sullen Hello.

Hermione sinks wearily into a chair, and closes her eyes.

…

She thinks of Draco Malfoy, greeting his fiancée with a peck on the cheek, one elegant hand hovering at her waist.

(It's not love, she thinks, it's possession—he's showing the world that Astoria's his).

He'd glanced at her then, and caught her staring, but—instead of the sneer she'd expected—his lingering gaze had held an invitation: You and me, Granger—how about it?

His arrogance had amazed her.

...

But now—tonight, with Ron—she's wishing she'd said yes.

______________

This was inspired by something I saw when travelling on the tram into Manchester -- a boy on his way to school, surrounded by his own bunch of Goyles and Crabbes and, when his girlfriend got on (she was one of those impeccably turned-out trophy fourteen year olds), he put his hand to her waist, pulled her close, and gave her a proprietorial peck on the cheek, and I thought: That's so Draco! Then I had to find a way of making it work with the prompt...