Some drawings
September 22nd, 2009 (07:03 pm)
Sorting through the bits and pieces I've just rescued from storage, I came across an old sketchbook, with various drawings made in museums. The funny thing is that I originally drew them because pictures of them weren't available. Now, thanks to the wonder of the Internet, I've been able to find photos of most of the original pieces!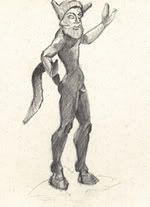 Drawn in pencil on paper and then left in a very damp place, hence the water marks.



A particularly beautiful colossal head of Akhenaten (Louvre).
Recognisible but not very accurate!
Lower part of a head of Akhenaten (Fitzwilliam Museum, Cambridge).
Bit too 'normal'!
Colossal Head of Amenemhat III (British Museum).
Statue of Senwosret III (British Museum). An iron fist in an iron glove!
The careworn face shows his concern for his people; the oversize ears
show that he is there to listen to their problems.
Beautiful little Middle Kingdom/Second Intermediate Period
execration figure (Fitzwilliam Museum), pinched from a handful of clay.
Used in rituals designed to curse the enemies of Egypt.
Quick sketch of Michelangelo's Dying Slave (Louvre).
Laughing Budai (British Museum).
Too western, too human :-(
Dancing satyr (Sainsbury Centre).